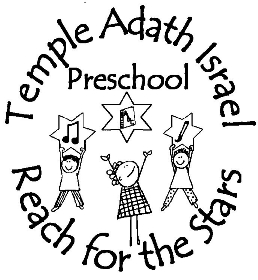 Welcome to Temple Adath Israel Preschool early childhood program. We have been in existence for more than 30 years, and we provide a small, nurturing, family environment. It is the philosophy of Temple Adath Israel Preschool that young children should have a warm, happy, safe and stimulating learning environment outside the home where they can experience security, discovery, accomplishment and a positive sense of self. Our philosophy espouses the belief that every child should feel good about him/herself at the end of each class day.
The preschool offers programs for children ages two to four years of age. We are a half day program and our hours are from 8:30 a.m. to 11:30 p.m. We offer lunch bunch and extended day on Mondays, Wednesdays and Friday from 11:30 p.m. – 1:00 (lunch bunch) and 11:30 – 2:00 p.m. (extended day). The children stay and have more free play, lunch, story time and an enrichment activity. Parent's have the flexibility to arrange a schedule that will meet their needs for an early childhood program for their child.
Our classrooms are arranged in centers: dramatic play, art, library, sand and water table and science/discovery centers. This enables the child to move freely throughout the classroom to explore and discover with many hands on experiences that will promote and develop future learning skills.
The curriculum is a themed based approach to teaching the early childhood student. The instruction is child centered and developmentally appropriate to meet the needs of each child. The children will experience circle time, arts and crafts, music and movement and story time during each day. In addition we offer a Jewish education curriculum which focuses upon the cycle of Jewish holidays, weekly celebration of Shabbat and the learning of the Hebrew language. We accept children of all ethnic, religious, social and economic backgrounds.
If you would like to learn more about our preschool or to arrange a tour of our school, you can find all contact information in the preschool website: taipreschool.com . Please feel free to contact us for any needs or questions you may have.
Thank you for your interest in Temple Adath Israel Preschool as an early childhood program for your child and family.
Katherine Henry
Preschool Director
Phone: 269-1915
Email: preschool@lextai.org