Kristen Hoffman and Jori Sussman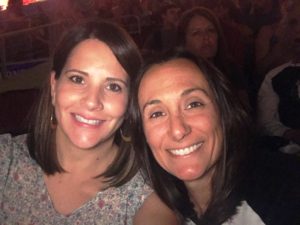 Kristen Hoffman, left, and Jori Sussman are serving as co-directors of TAI Religious School for 2018-19. Kristen spent the previous two years as interim coordinator. They are working to enhance and grow the Religious School and the important complementary family programs that serve Religious School families and students, including Tot Shabbat, family services and Junior Choir. Together, they also plan to implement new programs that will further Religious School's mission to help its students develop a positive Jewish identity, apply Jewish ethical beliefs to daily life, and gain a fundamental knowledge and understanding of Jewish practice, history, and language.
   Jori is leading efforts regarding Hebrew and Jewish Values curriculum, teacher training, teacher support, student support, and school assemblies and programs.  Kristen is in charge of outreach, communication and marketing efforts for Religious School activities and any complementary family programs such as Family Service, Tot Shabbat and Junior Choir.  Kristen and Jori will support each other in these endeavors, both working on programs or events that require additional manpower and meeting on a regular basis to ensure that the Religious School and its associated programming are working together to support students and families.
    Kristen attended the University of Michigan, earning a bachelor's degree in business administration with concentrations in marketing and finance. She later earned a master's in public administration at UK. Her career took her to New York , where she worked for Kraft Foods, and to Chicago, where she was assistant development director for the Metropolitan Planning Council. After relocating to Ann Arbor, she and her husband, Dr. Mark Hoffman, who grew up in Lexington, returned here in 2012. They are the parents of twins Eli and Sophie, 9, and Maren, 6.
   Jori attended the University of Florida, earning bachelor's degrees in education and in advertising. She has worked as a teacher, school librarian, non-profit director and owned a tutoring company. She currently is director of PJ Library and outreach for the Jewish Federation of the Bluegrass and will continue in that post. In 2016, Jori and her husband, Daniel, Lower School Head at The Lexington School, moved to Lexington in from California with their sons. Levi is 8, and Andrew is 6.
   Kristen and Jori say they are looking forward to working with students and families at TAI to ensure that our Religious School is a fun, nurturing and educational environment.
  For more information about Religious School, contact Kristen at kristen@lextai.org.